Arbër Selmani
Photo credits: Nok Selmani
There are around 700 houses with 6 thousand inhabitants, divided by a railway but united my misery. From 'the others' they are divided by skin colour, but united by the scary life in the post-war Kosovo. From the Albanians, they are divided by ignorance and neglect, united by living close to the abyss of poverty.
Both neighbourhoods in Fushë Kosova, named Lagjja 28 and 29, make you think that you are leaving the city centre towards another space and dimension. The same thing happened to me when I visited Roma, Ashkali and Egyptians in Prague, Czech Republic, some few years ago. There, without state permission they could not even sit on the benches in front of their apartments.
Likewise, these Roma, Ashkali and Egyptians whom I meet in Fushë Kosovë / Kosovo Polje, are ten minutes away in terrestrial geography, but ten years away in development and mentality. It is almost unbelievable that 20 minutes away from Pristina and 10 minutes away from Fushë Kosovë / Kosovo Polje, where life flourishes and expensive cars pass around you, three communities have been left aside and continue to live in oblivion.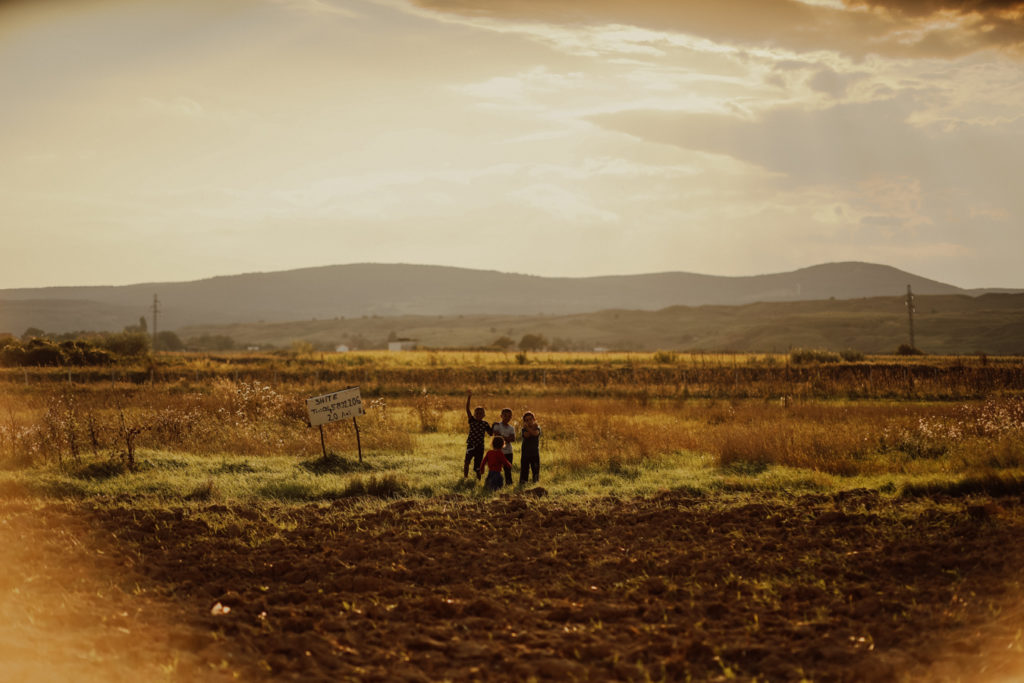 *
I meet Sadullah and Allmir from the very beginning of the alley of one of the neighbourhoods. A little further I meet Muhamer, also close to him Muhamet. I notice the sparks of innocence in their eyes, and they are amazed when they see me wearing a mask and walking in their 'territory'. 45 minutes of walk through around the alley of two neighbourhoods, no man has put on a mask. The eye sees nowhere a hand disinfectant.
The closeness between people is to be admired if we were not in a pandemic situation. Women walk their children, men drive cars, bicycles, tractors here and there, and the older ones sit on the balconies – assuming they are balconies – and just wait for this day to leave.
It makes no sense to visit this part, and any other part where poverty and disease live, and not get into people's stories and insights.
I interview my characters while children are always around me, wanting to show their skills in movement, in body acrobatics, smiling, asking if I am this or that. Elheme and her friend, two girls with the most beautiful eyes in the whole world, allow me even a snapshot.
This, at least, is a small town where people who are united by the same fate, the fate to be different from others and to be prejudiced, judged, punished, ignored and harmed, coexist with the passing of days waiting for help and a better life and future.
'When I have, I eat, when I have not, I cook something'
Latife is sitting in front of her house, leaning against the wall of another house, and I think this is her most frequent activity of the day.
Staying in the neighbourhood and the pleasure she gets from the kids who smash their play balls, are Latifa's main company.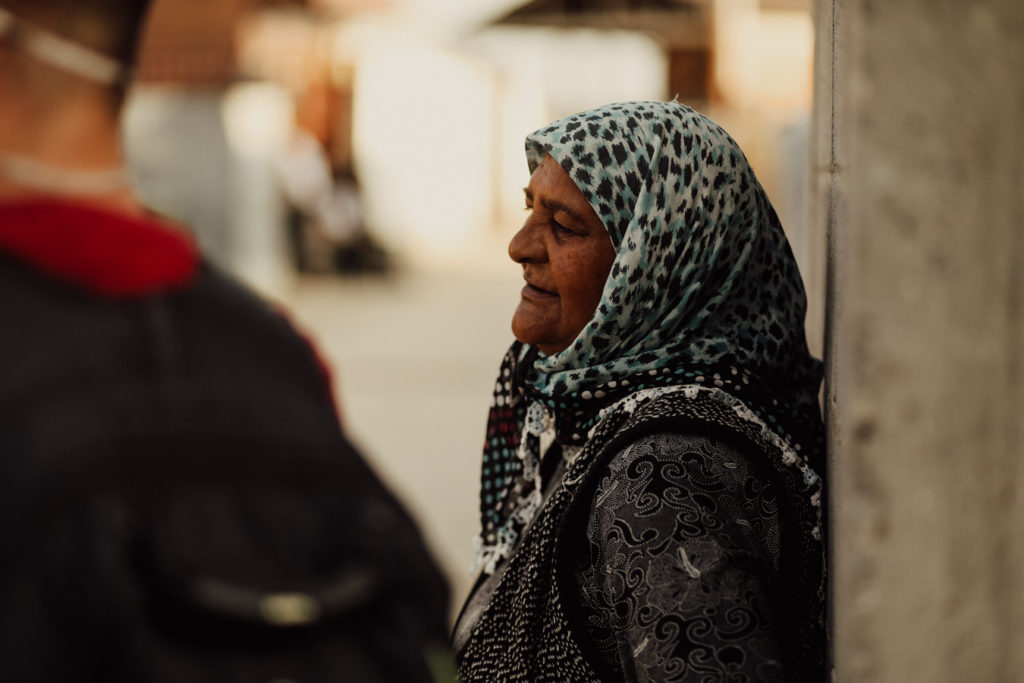 "My legs are hurting me, I cannot go anywhere. Just inside this neighbourhood. My mother passed away last year. I am now 53 years old, my mother – nana, was 80. I live with Olti, my nephew, he is now out of home and looking for bread somewhere. My brother's help me. House doesn't give you food"
"I am from Pristina".
Latife says this sentence and the whole construct of this life-stricken body changes, starting from the face. She seems to want to show that she started misery in Pristina, and life forced her to continue the same misery a little far from Pristina.
"I lived in Pristina until the war, towards Kolovica e Re, towards Teknika, towards Sali Shumari. Since the war, I have come here to Fushë Kosovë. With my mother we lived together in Pristina, our house burned down, a brother I had died so we had to leave and come here. 'Elhamdurilah', the Muslim brotherhood helped me and now I have a home. My nephew is 13 years old, going towards being 14. I am very old, he goes to the school 'Selman Riza', in the eighth grade. I do not mind him begging, I also did it myself for quite some time. Since this fall, I have been trying to get out, and I can't. Besides, I have this grandson, I raised him. My son is in prison, he had a problem with his wife, and I already need to raise this nephew".
"My nephew is very close to me. I think he is my own son, I address him like that all the time. I do not know where my husband is, since the war began I do not know if he is alive or not, no news from him. I have not received anything from him" Latife adds.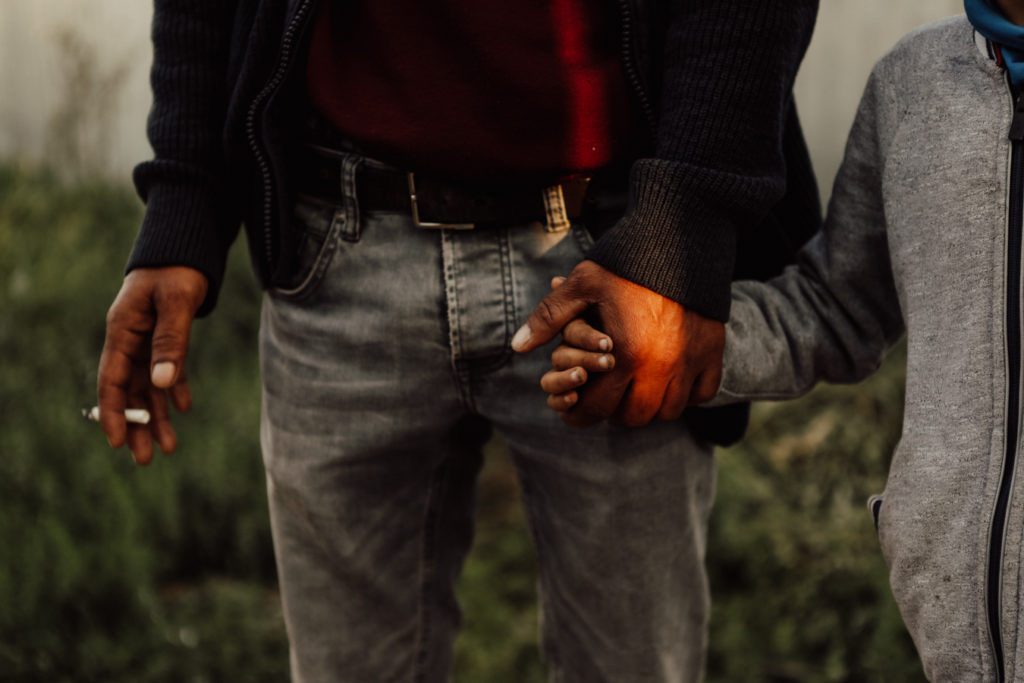 *
I continue to walk through these two neighbourhoods, until the Sun is ready to set and relieve the pain of the inhabitants of this part of Kosovo.
In this part, there is no health house.
Immediately after the end of the war in Kosovo, which, like the liberation of Albanians from Serbs, for many Roma, Ashkali and Egyptians of Kosovo was the beginning of a strong racism by Kosovo Albanians, in this part a treatment centre was used as part and Balkan SunFlowers – an NGO dealing with all three communities. The centre was mobile and there the citizens of these parts had the opportunity to be checked for their health problems. The centre is nowhere to be found now.
The nearest health centre is too far away, walking is impossible and a car or taxi is needed. The latter is costly considering that most of the men and women in this part are manual workers. Others, unemployed. A request has been made to return the health house to this part, or to build a new one.
*
"I swear I am not voting again"
"I have four children, I have my sickness and I have my wife who is sick. I do not have a tractor to take her to the doctor. I have a small bicycle that cannot carry a person. I need a tractor to make a life out of it".
Bekim Hajolli, 49, has a fantastic oratory and wants at all costs to be provided with tractor through this text, a tool that will make his life easier.
"A Four-wheeled tractor" – Resuli, Bekim's youngest son is heard saying, as I interview Bekim with his bicycle nearby, a good bicycle that is goodwill and the outstretched hand of a Bekim relative.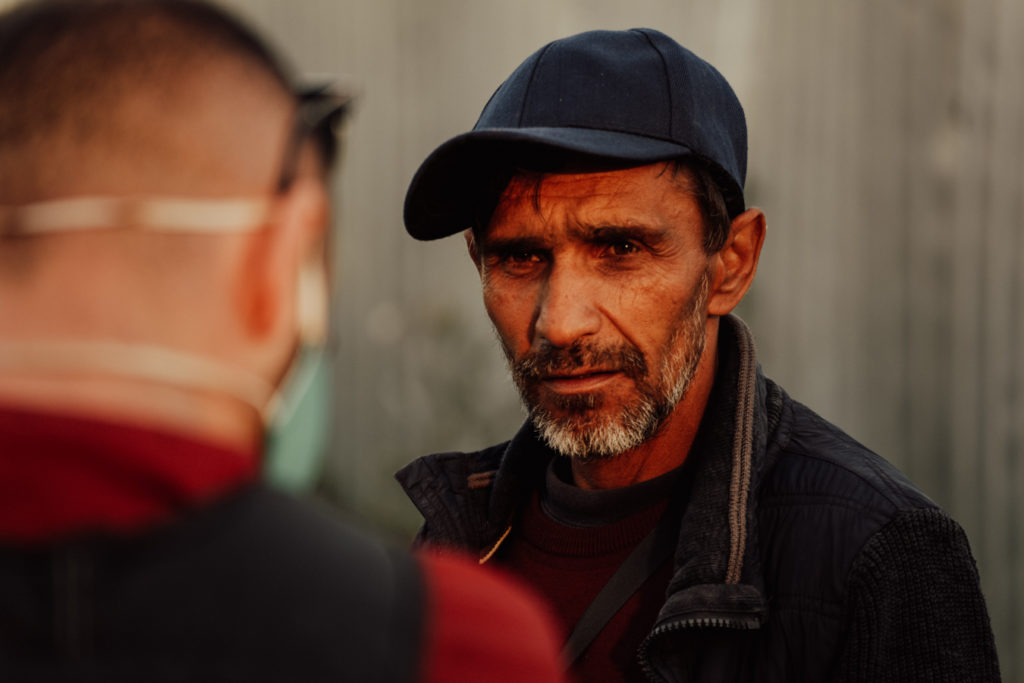 "I just came from the bins, I went to Fushë Kosovë and Pristina, unsuccessfully. I get tired of the bicycle because it is a bit high, I have to push it for a while. I have no other choice. I'm happier if someone would bring me a tractor. Nobody comes around here, when elections come they all parade in here. I did swear that I will not vote again" Bekim says to me.
"Before the war, I lived in Dragodan, in Pristina. We came here, my father died later. I have a house here, it is in good conditions. I have four children: Resul, Bujar, Behare and Behar. If I had a tractor, I would also make my children work and make ends meet".
Bekim's wife is 60 years old, and whenever I ask Bekim what exactly she is suffering from, he replies that 'she needs injections'.
I have a lot of problems when I write the stories of these people, when I transcribe them, even when I am at the scene, because I do not even know where to start and how to end the saga of their difficult life.
There are grocery stores inside the two neighbourhoods, but for clothing and textiles people go out of the community, supplied elsewhere. Residents say they have no problem with electricity, while the sewerage network is being repaired and they were told that asphalt will be put in this part.
Young people do not have a gym where they could spend their free time.
*
I have left behind both Latife and Bekim with the great hope that my readers will react and someone will help them both, but also many others in this part. Latife and Bekim expect from me, I expect from myself and from you.
[ This article is produced as part of the project "Supporting media and Independent Journalism with a Human Rights Perspective in Kosovo", supported by the European Union in Kosovo and implemented by Kosovo 2.0, CEL and KCGS. Its contents are the sole responsibility of KULTPLUS/YIHR KS and do not reflect the views of the EU, K2.0, CEL or KCGS. ]